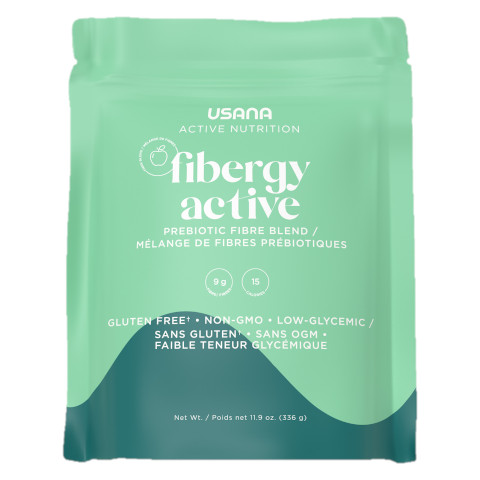 Fibergy Active
USANA Detox Program
USANA Fibergy Active is a powdered prebiotic blend of soluble and insoluble fibres with prebiotics.
Value
$38.00
Discount
10%
You Save
$3
Health Basics
SKU :
224
Quantity :
28 portions
Availability :
In Stock
Currency :
Prices are in Canadian Dollars (CAD).
Shipping :
Usually ships within 24hrs.
Delivery within 3 to 5 business days.
Maintains good digestive health by aiding regularity
Feeds and maintains your gut microbiome
Supports good cardiovascular and metabolic health
Actively supports weight management by helping you feel satisfied after meals
Fiber Keeps Your Gut Feeling Great
Meeting your daily fiber needs just became easier with Fibergy Active—a convenient, naturally low-glycemic way to up the ante on the complex carbs in your diet. And Fibergy Active is a blend of dietary fibers that are vegan-friendly and naturally sourced. So, you'll get the full range of benefits that a variety of soluble and insoluble fibers have to offer.
As an active adult, you have a lot on your plate. You don't need a sluggish digestive system slowing you down. Active Nutrition's fiber support product Fibergy Active boasts a hefty nine grams of fiber that support your digestive system.
Fibergy Active Taps the Prebiotic Power of Organic Agave Inulin to Feed Your Microbiome
Healthy digestion begins with a well-nourished microbiome. If you've ever felt out-of-touch with the microbes living in your gut, fiber is your solution. The complex carbohydrate feeds the helpful bacteria that live in your intestines. These bacteria are necessary for digestion because they break down compounds that your body can't on its own.
Fibergy Active makes it easy for you to feed your microbiome the prebiotic fiber it needs to thrive. Along with the fruit powders mentioned above, the formula has organic agave inulin to support the microflora that reside in your gut.
Agave inulin promotes the growth of bacterial strains like bifidobacteria and lactobacilli. These microbes support the digestive tract's ability to break down foods and absorb nutrients. This helps your body maintain healthy levels of nutrients to help you conquer your daily grind.