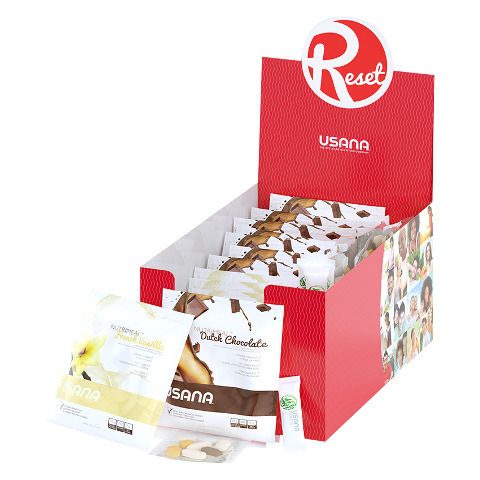 5-Day RESET Kit
USANA Weight Management
USANA 5-Day RESET™ Kit is a nutritionally complete, low-calorie system of macronutrients and micronutrients to help you lose the first few pounds and find the motivation to keep working toward your total weight-loss goal.
Value
$136.95
Discount
10%
You Save
$37
SKU :
251
Availability :
In Stock
Currency :
Prices are in US Dollars (USD).
Shipping :
Usually ships within 24hrs.
Delivery within 3 to 5 business days.
5-Day RESET Kit
It's no secret that the key to effective weight management is making positive changes in your diet and exercise habits. However, making those healthy lifestyle changes and improving eating habits can often seem like insurmountable tasks. With that in mind, USANA scientists developed the RESET weight-management program to help people jumpstart healthy eating habits and begin to make a clean break from unhealthy foods.
Control the cravings
All of the USANA Foods in RESET are developed to help you not feel hungry as quickly, so you don't feel an overwhelming need to eat, which may help you manage your weight.† In addition, the fibre content of RESET helps provide a long-lasting sense of fullness to help reduce hunger levels throughout the day.
The benefits of RESET go beyond weight management. Consisting of three simple phases, this program will not only help you shed pounds, but it will also assist you in making positive changes to your overall lifestyle.
Manage your weight
The RESET 5-Day Jumpstart Phase is not about starvation. It is a nutritionally balanced, low-calorie system to help you kick carbohydrate cravings and find the motivation to keep working toward your total weight-management goal.
Find the new you
After you have completed the first five days with the 5-Day Jumpstart Phase, make the new healthy habits part of your lifestyle by choosing the next phase that is right for you.
The RESET program is a nutritionally balanced program of macronutrients (high-quality protein, good carbohydrates, and healthy fats) and micronutrients (vitamins, minerals, and antioxidants). The program is simple—every day you drink three Nutrimeal shakes and eat a USANA Protein Snack, a serving of fruit, and a serving of vegetables. You should also take the HealthPak packets, drink 64–80 ounces of water, and walk for approximately 20–30 minutes (about 3,000 steps) every day.
| Meals | 5-DAY RESET | Transform Phase | Maintain Phase |
| --- | --- | --- | --- |
| Breakfast | Nutrimeal shake | Nutrimeal shake | Nutrimeal shake |
| Snack | Protein Snack | Protein Snack | Protein Snack |
| Lunch | Nutrimeal shake | Nutrimeal shake | Healthy meal with plenty of fresh vegetables and fruits |
| Snack | Protein Snack | Healthy snack | Healthy snack |
| Dinner | Nutrimeal shake | Healthy meal with plenty of fresh vegetables and fruits | Healthy meal with plenty of fresh vegetables and fruits |