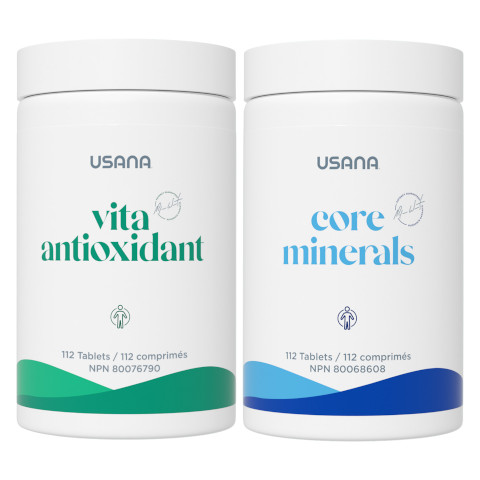 CellSentials™
USANA Supplements
USANA CellSentials™ provide the most well-rounded supplementation possible. It contains a diversity of vitamins, minerals, bioflavonoids, and other nutrients - a must for everyone interested in true health.
Value
$68.50
Discount
10%
You Save
$9.55
---
Health Basics
SKU :
101
Quantity :
224 tablets
Availability :
In Stock
Currency :
Prices are in Canadian Dollars (CAD).
Shipping :
Usually ships within 24hrs.
Delivery within 3 to 5 business days.
Provide an optimal nutritional support.
Preserve your health and general well being.
Antioxidants, such as vitamin E, help defend your cells against the oxidative stress caused by sunlight, pollution, and stress, which can all prematurely age the skin.
a carefully formulated balance of essential minerals and ultra trace minerals sourced from the highest quality suppliers in forms readily absorbed by the body.
Did you know?
Minerals and trace elements represent less than one half of one per cent of the total nutrients we consume every day. Yet, without them, our bodies would be unable to function. Minerals balance and regulate our body chemistry, build teeth and bones, help efficiently metabolize nutrients, and provide antioxidant support. Many vitamins and enzymes also need a mineral co-factor to function properly. Each mineral plays many roles in the body.
Mega Antioxidant and MultiMineral Plus make up USANA's Essentials of great nutrition. Mega Antioxidant is USANA's daily vitamin and antioxidant supplement for adults. MultiMineral Plus is USANA's daily mineral supplement for adults. Together, they have repeatedly been given top rankings in the NutriSearch Comparative Guide to Nutritional Supplements. New USANA customers start with the Essentials to build a strong foundation of health. You also save when ordering the Essentials for adults together in one pack!
What are Essentials?
To maintain optimal health, we need a variety of vitamins, minerals, bioflavonoids, and other micronutrients. A healthy, diverse, balanced diet provides the foundation for good micronutrition. However, with today's lifestyles, some people may not obtain optimal amounts of all these nutrients from food alone. Furthermore, our diets are often far from balanced. Some people don't obtain even the minimal amounts of micronutrients needed to adequately support health, let alone the amounts needed to function at an optimal level.
USANA understands the importance of providing the right ingredients - in the correct amounts, in the right balance, and in the correct forms - for all age groups. For this reason, USANA has created Essentials to provide the most well-rounded supplementation possible - a must for everyone interested in true health.
The Right Ingredients
| Medicinal Ingredients | Quantity |
| --- | --- |
| Beta-Carotene (Provitamin A, 1,5 Mg RAE) | 3 mg |
| Vitamin C (Poly C - Calcium, Potassium, Magnesium and Zinc Ascorbates) | 650 mg |
| Vitamin D3 (Cholecalciferol) | 400 IU |
| Vitamin E (D-Alpha Tocopheryl Succinate) | 200 IU |
| Vitamin K (Phylloquinone) | 30 µg |
| Vitamin B1 (Thiamine Chlorhydrate ) | 13.5 mg |
| Vitamin B2 (Riboflavin) | 13.5 mg |
| Niacin (Niacin, Niacinamide) | 20 mg |
| Vitamin B6 (Pyridoxine Hydrochloride ) | 16 mg |
| Folic Acid | 500 µg |
| Vitamin B12 (Cyanobalamin) | 100 µg |
| Biotin | 150 µg |
| Pantothenic Acid (Calcium D-Pantothenate) | 45 mg |
| Olive Fruit Extract (Olea Europaea) | 15 mg |
| Mixed Natural Tocopherols | 17 mg |
| Rutin | 60 mg |
| Quercetin | 12 mg |
| Hesperidin | 12 mg |
| Green Tea Leaf Extract - Decaffeinated (Camellia Sinensis) | 7.5 mg |
| Pomegranate Fruit Extract (Punica Granatum) | 5 mg |
| Cinnamon Bark Extract (Cinnamomum Cassia) | 2 mg |
| Bilberry Fruit Extract (Vaccinium Myrtillus) | 500 µg |
| Inositol | 75 mg |
| Choline Bitartrate | 50 mg |
| N-Acetyl L-Cysteine | 50 mg |
| Bromelain (Ananas Comosus) | 25 mg |
| Alpha Lipoic Acid | 10 mg |
| Coenzyme Q10 (Ubiquinone) | 4.9 mg |
| Turmeric Root Extract (Curcuma Longa) | 7.5 mg |
| Lutein | 300 µg |
| Lycopene | 500 µg |
| Broccoli Flower Powder (Brassica Oleracea) | 7.5 mg |
| Calcium (Citrate, Carbonate) | 135 mg |
| Magnesium (Citrate, CHVP Chelate) | 150 mg |
| Iodine (Potassium Iodine) | 112.5 µg |
| Zinc (Citrate) | 10 mg |
| Selenium (L-Sélenomethionine, HVP Chelate) | 100 µg |
| Copper (Gluconate) | 1 mg |
| Manganese(Gluconate) | 2.5 mg |
| Chromium (Polyni Cotinate, Picolinate) | 150 µg |
| Molybdenum (Citrate) | 25 µg |
| Silicon (HVP Chelate) | 2 mg |
| Vanadium (Citrate) | 20 µg |
| Boron (Citrate) | 1.5 mg |
The "essential" vitamins and minerals, as defined by government agencies and nutrition experts, are those that are needed for metabolic function, but are not manufactured by our bodies, they include the 13 organic compounds and 19 inorganic elements the body needs for proper cell function. We must obtain these ingredients from outside sources, and thus they are an "essential" part of our diets. These same experts have defined recommended amounts (RDIs) for those ingredients where a clearly defined deficiency disease or symptom has been observed.
USANA has expanded the meaning of "essential" micronutrition to include more than just those with an established intake levels and include several nutrients that recent research has shown help to maintain optimal health. The Essentials are formulated to do more than prevent nutritional deficiency. The nutrients in the Essentials are set at levels to maintain optimal health and energy levels, based on the latest scientific data. The Essentials also contain trace minerals, mixed carotenoids, bioflavonoids, and other phytochemicals and antioxidants to provide a full arsenal of compounds to help protect against the daily bombardment of free radicals.
The Correct Amounts
The Canadian Recommended Dietary Allowances (RDA) lists essential vitamins and minerals in amounts necessary to ensure a continuation of life and to address nutritional deficits that may cause acute deficiency diseases. The USANA Essentials are formulated to do more than defend against deficiency diseases; they are designed to promote optimal health. The Essentials contain greater amounts of almost all the necessary vitamins and minerals than are prescribed by the RDA.
The Precise Balance
There is still much we don't know about the ways nutrients work together. A healthy body is an extremely complex system, and each functional area requires a diverse mix of nutrients. For many reasons, nutritional supplementation should provide nutrients that are both balanced and in adequate doses. For example, certain vitamins supplied in isolation can result in other nutritional deficiencies, and many micronutrients can be toxic at excessive or imbalanced levels. USANA painstakingly designed the Essentials to allow components to work together both safely and effectively.
The Optimal Form
To be useful, nutrients must be of high quality and bioavailable—in other words, in a form the body can absorb and use. USANA takes the extra steps needed to obtain the highest quality ingredients with dependable levels of potency. In addition, USANA imposes rigorous quality controls at every step of the manufacturing process, following pharmaceutical GMP guidelines.
Why choose the USANA Essentials ?
USANA's foundation products are the Essentials - the advanced nutritional products for everyone, every day. They are designed to provide optimal nutritional support for every age group.
USANA Essentials are advanced daily nutritional supplements that supply optimal nutrition for every age group. To help meet the "essential" nutrient needs of children and teens during the years of development, when good nutrition is most important, USANA offers the Essentials.
The Essentials for adults are a combination of two products packaged as one:
Mega Antioxidant - a comprehensive formula of high-potency vitamins, antioxidants, and other important nutrients designed for every adult, every day for prevention of nutritional deficiencies and to counteract the damaging effects of free radicals
MultiMineral Plus - a full-spectrum blend of essential minerals and trace elements in a balanced, highly bioavailable formulation. When taken together with Mega Antioxidant, these supplements complete the nutritional foundation for every adult
About USANA Health Sciences
---
Complementary USANA products