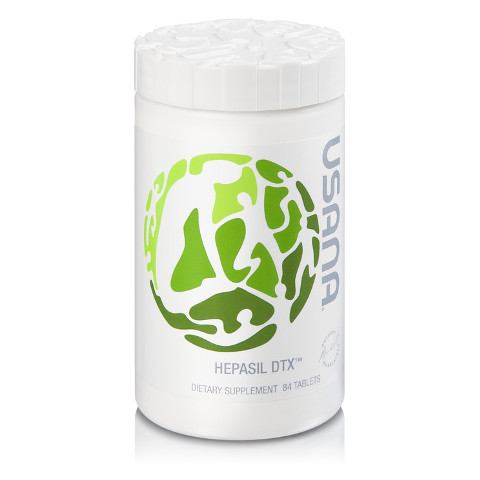 Hepasil DTX
USANA Detox Program
USANA Hepasil DTX provides comprehensive support for the liver and helps to combat oxidative stress in the liver with a powerful blend of antioxidants, including green-tea extract and broccoli concentrate.
Value
$46.75
Discount
10%
You Save
$5.5
Health Basics
SKU :
135
Quantity :
84 tablets
Availability :
In Stock
Currency :
Prices are in Canadian Dollars (CAD).
Shipping :
Usually ships within 24hrs.
Delivery within 3 to 5 business days.
Milk-thistle extract helps support the liver by stimulating liver enzymes.
Also contains other beneficial extracts from green tea, olives, and turmeric.
The liver is the body's second largest organ and its largest gland. It manufactures many important blood proteins; assists in the conversion of fats, amino acids, vitamins, and minerals into more usable forms; makes important structural components, including cell membrane compounds; filters toxins from the blood; and stores many vitamins and minerals, including iron and B12
the Hepa Plus supplement was formulated to provide a unique blend of antioxidants to help support healthy liver function
Milk-thistle extract
Used as a natural remedy to support liver health for more than 2,000 years, milk thistle is used by the liver to protect against oxidative stress. Additionally, it stimulates liver detoxification pathways and has strong antioxidant properties thought to help strengthen and protect liver cells.
As an antioxidant, milk thistle helps increase the amount and the activity of several antioxidant enzyme systems that are involved in the detoxification process, such as superoxide dismutase (SOD) and the glutathione peroxidase system. the active phytochemicals in milk thistle may also stimulate protein synthesis in liver cells, which helps to regenerate them.
Alpha-Lipoic Acid
| Medicinal Ingredients | Quantity |
| --- | --- |
| Choline Bitartrate | 125 mg |
| Milk Thistle Fruit Extract (80% Silymarin) | 80 mg |
| N-Acétyl L-Cystéine | 75 mg |
| Alpha-Lipoic Acid | 67 mg |
| Broccoli Flower Extract(20:1, Equivalent to 500 Mg Flower) | 25 mg |
| Green Tea (Camellia Sinensis) Leaf Extract (15:1, Equivalent to 225 Mg Leaft) | 15 mg |
| Olive (Olea Europaea) Fruit Extract (45:1, Equivalent To 675 Mg Fruit) | 15 mg |
| Tumeric (Curcuma Longa) Root Extract (50:1, Equivalent To 750 Mg Root) | 15 mg |
| Biotin | 75 µg |
Alpha-lipoic acid is easily transported across cell membranes to provide support to the important enzymes both inside and outside the cell. Because it is both water- and oil-soluble, it is thought to help regenerate both water- and oil-soluble antioxidants.
Turmeric extract
Turmeric, the powdered root of the plant Curcuma longa L., is a member of the ginger family native to India and Southeast Asia. It contains curcumin and related compounds known as curcuminoids, which have significant antioxidant properties.
Choline and the Liver
Choline supports healthy liver function by donating methyl groups necessary for detoxification reactions. Cholinephospholipids are extremely important structural elements of cells and are essential for the normal processing of dietary fat, a key function of the liver. In addition, adequate choline intakes have been associated with lower levels of plasma homocysteine, meaning choline can also play a role in heart health. Hepa Plus contains 125 mg of choline bitartrate.
N-Acetyl-L-Cysteine
N-acetyl-L-cysteine is an essential precursor for glutathione. Glutathione is an important antioxidant that scavenges free radicals inside and outside the cell and promotes detoxification. Its extra-cellular activity helps protect the liver from free radicals and toxins.
Why Hepa Plus?
The unique formulation of Hepa Plus helps to combat oxidative stress in the liver with a powerful blend of antioxidants, including green-tea extract and broccoli concentrate. It also includes USANA's patented Olivol for more complete antioxidant support. With 240 mg of high-quality, highly bioavailable milk-thistle extract per recommended dose, Hepa Plus provides comprehensive support for the liver.
About USANA Health Sciences
---
Complementary USANA products