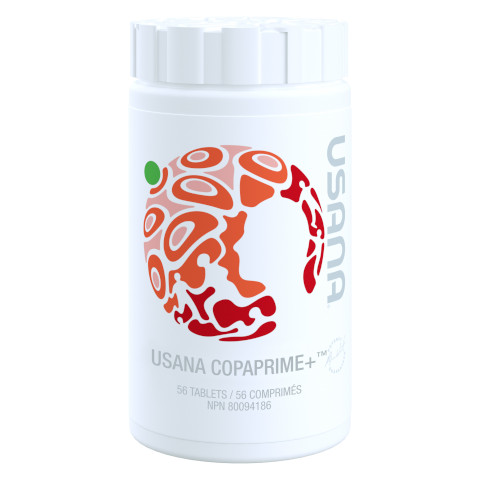 CopaPrime
USANA Supplements
USANA CopaPrime™ helps supporting memory, attention span, and other neurological activity. Il also may help preserve cognitive health by maintaining healthy oxygenation.
Value
$50.50
Discount
10%
You Save
$10
Health Basics
SKU :
126
Quantity :
112 tablets
Availability :
In Stock
Currency :
Prices are in Canadian Dollars (CAD).
Shipping :
Usually ships within 24hrs.
Delivery within 3 to 5 business days.
Formulated with the highest quality Ginkgo biloba extract
Phosphatidylserine, or PS, enhances the formula's action
Ginkgo-PS difference
Phosphatidylserine (PS) is a unique ingredient that plays an important role specific to brain function.
As advances in medical technology steadily lengthen the average human life span, we face the problem of retaining mental acuity throughout our lives. In later years, many intellectual functions we once took for granted, such as memory tasks, require more effort and attention. However, maintaining good nutrition, continuing physical and intellectual activity, and supplementing our diet with standardized Ginkgo biloba extract and phosphatidylserine may help preserve cognitive health. USANA's Ginkgo-PS combines these two powerful circulatory supplements in a single tablet.
Aging, environment, and Stress
| Medicinal Ingredients | Quantity |
| --- | --- |
| Ginkgo Biloba Leaf Extract | 25 mg |
| Soy Lecithin (Enriched with Phosphatidylserine) | 125 mg |
Several factors contribute to weakening mental function. As we age, the number of brain cells (neurons) steadily declines, partly because of oxidative damage caused by free radicals. the human brain loses about one-tenth of its mass between ages 20 and 75. Also, the conductivity of neuron membranes tends to decrease over time due to the gradual loss of critical phospholipids from the cell membrane and other structural components.
today's environment increasingly subjects us to toxic substances and pollutants, such as insecticides, solvents, and heavy metals that can damage cellular tissue. In addition, our physiological response to stress restricts blood circulation in the brain, thus reducing the supply of oxygen and nutrients.
Ginkgo's many Health Benefits
the Chinese have traditionally used Ginkgo biloba in herbal form for thousands of years, and an extract of ginkgo leaves has been used widely for decades in europe for supporting memory, attention span, and other neurological activity. Ginkgo extract contains a mix of bioflavonoids that provide antioxidant activity to fight free-radical damage. Its most important role, however, is facilitating blood circulation throughout the body and maintaining healthy oxygenation. more oxygen means more efficient use of other nutrients, which has positive results for mental performance, memory, and general cognitive function.
Phosphatidylserine (PS)
Phosphatidylserine, or PS, is the ideal complement to Ginkgo biloba. PS is a component of all cell membranes and is essential to proper cell function. It is found in highest concentration in the cell membrane of neural tissues. more than 25 human clinical studies have been conducted on PS, including at least 12 double-blind, placebo-controlled trials. measurable effects were related to memory, attention, and learning ability.
Why Ginkgo-PS?
USANA is one of few major manufacturers to combine Ginkgo biloba and PS into a single product. In addition, USANA uses only standardized Ginkgo biloba extract. the high quality of our Ginkgo biloba extract combined with PS gives Ginkgo-PS clear advantages over other products on the market.
About USANA Health Sciences
---
Complementary USANA products