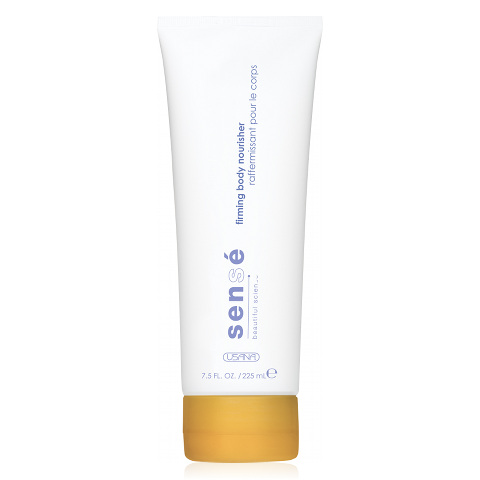 Firming Body Nourisher
Sense Personal Care
Sensé Firming Body Nourisher is a luxurious, lightly scented body lotion that nourishes your skin and leaves your skin feeling hydrated and incredibly soft.
Value
$28.50
Discount
10%
You Save
$2.55
---
Benefits
SKU :
314
Availability :
In Stock
Currency :
Prices are in Canadian Dollars (CAD).
Shipping :
Usually ships within 24hrs.
Delivery within 3 to 5 business days.
Lightweight, non-greasy lotion hydrates skin
Smoothes and retexturizes skin surface with an exclusive hydroxy complex
Nourishes skin with emollient shea butter
Visibly firms and tones with Ceramide 3
The Sensé Difference
Unique self-preserving formula with no added chemical preservatives nurtures your skin (US Patent 7,214,391)
Proflavanol-T antioxidant blend with whole-grape extract, green-tea extract, and vitamin E to combat the visual effects of environmental stress on the skin
Proteo-C vitamin C complex helps brighten skin
Dermatologist/allergy/clinically tested
Firming Body Nourisher
Pamper your body from head-to-toe with this luxurious, lightly scented body lotion that leaves your skin feeling hydrated and incredibly soft. Proteo-C and Proflavanol-T complexes nourish your skin while emollient-rich shea butter and Ceramide 3 soothe, firm, and replenish essential moisture. This whole-body treat gives your skin a youthful, radiant appearance without ever feeling heavy or greasy.
Directions
Smooth generously over body.
Sensé Skin Care Patented Self-Preserving Technology
Part of true health is reducing exposure to environmental toxins, which is why the scientists who developed the Sensé skin-care line worked diligently to find an alternative to adding parabens.
After nearly 10 years of research, they formulated the answer in a revolutionary U.S.-patented technology. Groundbreaking liquid crystals that mimic the skin's own structure act as "packets" carrying purifying botanicals and antioxidants to keep each Sensé product fresh. Plus every aspect of product design is carefully controlled: water availability, pH control, purpose of ingredients, manufacturing, and packaging, eliminating the need for added chemical preservatives.
The Preservative Problem
Preservatives are important for preventing bacteria and mold growth in a product. However, many preservatives such as formaldehyde and DMDM Hydantoin bathe your skin in strong chemicals. Our bodies are already exposed to many toxic chemicals every day, and it is uncertain what the long-term cumulative effects on our health could be. Plus, common cosmetic preservatives are more likely to cause dry, irritated skin. Sensé removes the worry associated with applying unnecessary chemicals to the skin, and the gentle formulas help promote a calm, healthy complexion.
Proflavanol-T Antioxidant Blend
A proprietary antioxidant blend that supplies the right nutrients for perfectly balanced, younger-looking skin, Proflavanol-T antioxidant blend is the skin's solution to the aging influences of our modern world. Whole-grape and green-tea extracts shield against the visual effects of free radicals and environmental stress, oryzanol helps maintain the skin's pH balance, and vitamin E (tocopherol) helps skin retain its vital moisture.
Topical Nutrition: Proteo-C Vitamin C Complex
Proteo-C is an exclusive vitamin C blend offering powerful beauty therapy that helps skin look younger and brighter as it defends against the effects of elements such as sun, stress, and pollution that can accelerate the visible signs of aging. Amino acids proline and glycine also deeply moisturize skin and help control the skin's pH balance.
About USANA Health Sciences
---
Complementary USANA products