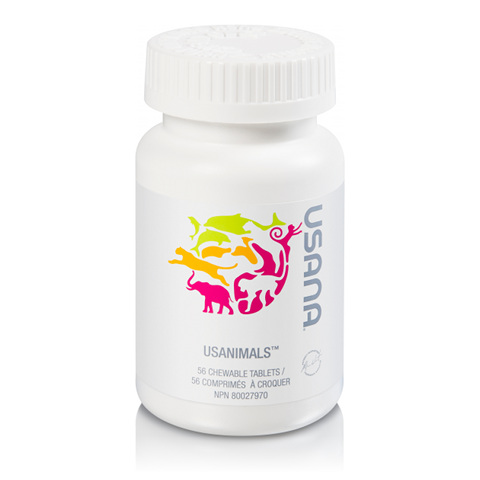 Usanimals™
USANA Supplements
USANA Usanimals™ provides balanced nutrition through a complete antioxidant complex, vitamins, minerals and essentials nutrients that supports general health and well-being for children.
Value
$22.50
Discount
10%
You Save
$1.55
---
Health Basics
SKU :
105
Quantity :
56 tablets
Availability :
In Stock
Currency :
Prices are in Canadian Dollars (CAD).
Shipping :
Usually ships within 24hrs.
Delivery within 3 to 5 business days.
Provides a complete and balanced formula of vitamins and minerals
Free of artificial flavours and sweeteners
Includes blackberry, raspberry, cranberry, and wild blueberry fruit powders
Fun and easy-to-eat chewables
Did You Know?
Usanimals provides one of the best antioxidant complexes available
Good nutrition plays a critical role in everyone's health, and taking a multivitamin/mineral supplement every day is a sensible choice. Usanimals, one of USANA's Essentials - products, are an advanced formulation of important nutrients beneficial for the maintenance of good health. In addition to a phytonutrient blend of blackberry, cranberry, raspberry, and wild blueberry fruit powders, Usanimals contain a comprehensive array of antioxidants, vitamins, and minerals.
Beta Carotene
Beta carotene is an antioxidant that is converted to vitamin A in the body. Vitamin A helps in the maintenance of eyes, skin, and the proper function of the immune system.
B Vitamins
Usanimals contain carefully proportioned B-complex vitamins, which are fundamental to energy production and metabolism. B vitamins are also important for the health of nerve cells, red and white blood cells, and the formation of DNA and RNA, the genetic material in all cells. Many B-vitamins, such as folate, B6, and B12, are also important to healthy brain function.
Vitamin D
Vitamin D is an essential nutrient found in only a limited number of foods. Since experts now widely believe that many people do not get adequate amounts of vitamin D, it has become an increasingly important component of a healthy diet. In addition to its important role in supporting bone health, recent research links vitamin D to an impressive and diverse array of other potential health benefits.
Medicinal Ingredients
Quantity
Beta Carotene (Provitamine A)
1.5 mg
Vitamin D (Cholecalciferol)
200 IU
Vitamin E (D-Alpha Tocopheryl Succinate)
50 IU
Vitamin C (Ascorbic Acid, Sodium Ascorbate)
125 mg
Vitamin B1 (Thiamine Mononitrate)
1.25 mg
Vitamin B2 (Riboflavin)
1.25 mg
Niacin
10 mg
Vitamin B6 (Pyridoxine Hydrochloride)
1.25 mg
Folic Acid
200 µg
Vitamin B12 (Cyanocobalamin)
6 µg
Pantothenic Acid
5 mg
Biotin
75 µg
Inositol
15 mg
Polyenylphosphatidyl Choline (Soy Lecithin)
25 mg
Calcium (Carbonate)
75 mg
Magnesium (Citrate, HVP Chelate, Oxyde)
25 mg
Iodine (Potassium Iodine)
50 µg
Zinc (HVP Chelate)
5 mg
Selenium (HVP Chelate)
15 µg
Copper (Citrate)
0.5 mg
Manganese (Gluconate)
0.5 mg
Chromium (Polynicotinate)
25 µg
Molybdène (HVP Chelate)
12.5 µg
Vanadium (Citrate)
5 µg
Silicon (HVP Chelate)
1 mg
*Hydrolyzed Vegetable Protein
Vitamin C
Critical to maintaining good health, vitamin C supports many important functions within the body and is vital for collagen synthesis. Collagen is the most abundant structural protein in the body and is essential for healthy skin, muscles, teeth, bones, skin, and blood vessels. Vitamin C is also a co-factor for many enzyme systems within the body, helps regenerate other antioxidants such as vitamin E, and is a highly effective antioxidant. Vitamin C protects cells from damage by free radicals that can be generated during normal metabolism as well as through exposure to toxins and pollutants.
Vitamin E
Vitamin E is an important antioxidant essential to the structure and protection of cells. Vitamin E helps produce new blood cells, protects against free-radical damage, and helps maintain healthy body tissue. Eye health too depends on adequate amounts of vitamin E as well as vitamins A and C.
Calcium
In addition to its role in helping to build strong healthy bones and teeth, calcium also helps maintain muscle and nerve function, blood clotting, and cell division and helps activate enzymes needed to convert food to energy.
Zinc
Zinc is a necessary element in more than 100 enzymes that are essential to digestion and metabolism, as well as wound repair and healthy eye function. Zinc also functions as an antioxidant.
Why Usanimals?
Usanimals have a great-tasting natural berry flavour without artificial flavours or sweeteners, and fun animals shapes stamped on each supplement make staying healthy a blast.
About USANA Health Sciences
---
Complementary USANA products