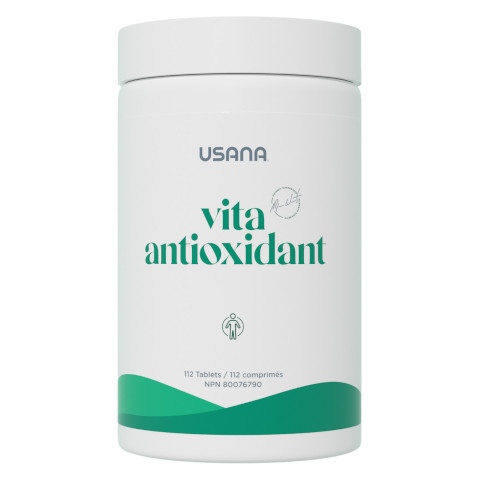 Vita-Antioxidant
USANA Supplements
USANA Vita-Antioxidant offers nutritional support for optimal vision, a sound immune system, and efficient energy metabolism through its highly bioavailable vitamins and antioxidants.
Value
$51.50
Discount
10%
You Save
$5.55
---
Health Basics
SKU :
103
Quantity :
112 tablets
Availability :
In Stock
Currency :
Prices are in Canadian Dollars (CAD).
Shipping :
Usually ships within 24hrs.
Delivery within 3 to 5 business days.
Offers an unparalleled range of antioxidant nutrients for protection against oxidative stress, the cell-damaging process that results from environmental pollutants and natural aging
Offers nutritional support to help maintain healthy vision
Supports healthy immune function
Designed to be taken with MultiMineral Plus for maximum benefit. Together, Mega Antioxidant and MultiMineral Plus compose the USANA Essentials for adults.
Mega Antioxidant Difference
Contains Olivol, a patented ingredient exclusive to USANA that provides unique antioxidants found in olives
Cell-damaging oxidative stress is caused by free radicals that come from normal cellular metabolism, exposure to pollution and toxins, stress, and poor diet and lifestyle habits. Free radicals attack our cells, gradually chipping away at their integrity, resulting in an eventual decline in health. Antioxidants neutralize the activity of free radicals to protect the integrity of our cells, which impacts every part of our body.
Mega Antioxidant provides advanced levels of a wide-range of antioxidants: Vitamins C and E, along with beta carotene (which naturally converts into vitamin A only as needed, providing the benefits of vitamin A without the risk of toxicity), are each powerful antioxidants that also reinforce the activity of the others. Flavonoids and phenolic compounds, which are abundant in fruits and vegetables, not only provide important protection against oxidative stress, they also complement and extend the activities of other antioxidants as well. A unique bioflavonoid complex including quercetin, rutin, hesperidin, green tea, bilberry, pomegranate, and cinnamon plus broccoli concentrate and turmeric all work to inhibit the activity of free radicals.Certain polyphenolic antioxidants found in olives are not present in other common dietary sources. They are structurally distinct from the bioflavonoids and other antioxidants found in fruits and vegetables. These antioxidants are found in USANA's patented Olivol olive-fruit extract.
Essential Health
Complete, effective combinations of nutrients are needed to provide a foundation for good health. For the best results, Mega Antioxidant should be taken with MultiMineral Plus.
| Medicinal Ingredients | Quantity |
| --- | --- |
| Beta-Carotene (Provitamin A, 1,5 Mg RAE) | 3 mg |
| Vitamin C (Poly C - Calcilum, Potassium, Magnesium and Zinc Ascorbates) | 650 mg |
| Vitamin D3 (Cholecalciférol) | 400 IU |
| Vitamin E (D-Alpha Tocopheryl Succinate) | 200 IU |
| Vitamin K (Phylloquinone) | 30 µg |
| Vitamin B1 (Thiamin Chlorhydrate ) | 13.5 mg |
| Vitamin B2 (Riboflavin) | 13.5 mg |
| Niacin (Niacin, Niacinamide) | 20 mg |
| Vitamin B6 (Pyridoxine Hydrochloride) | 16 mg |
| Folic Acid | 500 µg |
| Vitamin B12 (Cyanocobalamin) | 100 µg |
| Biotin | 150 µg |
| Pantothenic Acid (Calcium D-Pantothenate) | 45 mg |
| Olive Fruit Extract (Olea Europaea) | 15 mg |
| Mixed Ntural Tocopherols | 17 mg |
| Rutin | 60 mg |
| Quercetin | 12 mg |
| Hesperidin | 12 mg |
| Green Tea Leaf Extract - Decaffeinated (Camellia Sinensis) | 7.5 mg |
| Pomegranate Fruit Extract (Punica Granatum) | 5 mg |
| Cinnamon Bark Extract (Cinnamomum Cassia) | 2 mg |
| Bilberry Fruit Extract (Vaccinium Myrtillus) | 500 µg |
| Inositol | 75 mg |
| Choline Bitartrate | 50 mg |
| N-Acétyl L-Cysteine | 50 mg |
| Bromelain (Ananas Comosus) | 25 mg |
| Alpha Lipoic Acid | 10 mg |
| Coenzyme Q10 (Ubiquinone) | 4.9 mg |
| Turmeric Root Extract (Curcuma Longa) | 7.5 mg |
| Lutéin | 300 µg |
| Lycopene | 500 µg |
| Broccoli Flower Powder (Brassica Oleracea) | 7.5 mg |
Heart Health
High levels of antioxidant in the blood have been shown to help support cardiovascular health. Vitamin E and mixed tocopherols play a critical role in protecting LDL and cell membranes from oxidation, keeping arteries healthy. Vitamin C is also helpful in maintaining healthy veins and arteries by supporting healthy tissue growth and strengthening collagen. The B vitamins, especially riboflavin, folate, and vitamins B6 and B12, are fundamental to the maintenance of healthy levels of the amino acid homocysteine, provided they are healthy to begin with. Homocysteine levels have been linked to heart health. Vitamin B12 is also necessary for the health of red blood cells and DNA, the genetic material in all cells. Those who do not take a supplement containing vitamin B12 are twice as likely to be vitamin B12 deficient as supplement users, regardless of age group. Coenzyme Q10 plays a key role in producing cellular energy, demand for which is especially high in the heart, making this an important nutrient for cardiovascular health. In addition, cellular-energy production requires a full spectrum of B vitamin activities. Vitamin D deficiency has been linked to an increased risk of heart disease. USANA's patented Olivol helps protect low-density lipoproteins (LDL) from oxidation.
Vision
Mixed carotenoids, including beta carotene, lutein, and other antioxidants help maintain good vision. Lutein selectively accumulates in tissues in the eye to help protect against damaging UV rays. Vitamin C is especially important for the retina, where concentration of this essential nutrient is significantly higher than in the blood.
Immunity
By helping to maintain the integrity of all cell membranes, along with the digestive system and lungs, beta carotene is important for strong immunity. Vitamins B6, B12, and folate are critical for producing immune cells. Vitamin E, vitamin D, as well as vitamin C are well known for their immune-cell supporting properties.
Bone Health
Vitamin D helps in the development and maintenance of mineral-rich bones and teeth. Healthy levels of this important nutrient are a key part of minimizing age-related bone loss. It also supports muscle strength.
Respiratory Function
Lycopene and the combination of vitamin C and bioflavonoids support health maintenance for many organs.
Why Mega Antioxidant?
Because it is one half of the Essentials - the top-rated supplements in the world - you can trust that Mega Antioxidant is the best multivitamin and antioxidant supplement you can use to protect your health every day. Formulated by a team of nutritional-science experts using readily bioavailable forms of each nutrient, the USANA Essentials surpass virtually every competitor for completeness, potency, and quality. Our own in-house study also revealed that the Essentials provided increased levels of select nutrients over a longer period of time than some competitive products. USANA is proud to be one of only a handful of manufacturers who makes our products in our own state-of-the-art facility, which allows us to oversee the entire production cycle to ensure that our products deliver only the safest, most effective formulas for you and your family - Nutritionals You Can Trust.
About USANA Health Sciences
---
Complementary USANA products