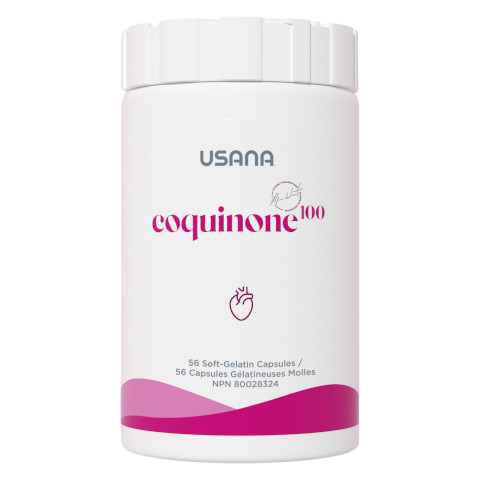 CoQuinone 100
USANA Supplements
USANA CoQuinone™ 100 plays a crucial role in creating energy in the cells and helps to regenerate and recycle other antioxidants, including vitamins E and C and glutathione.
Value
$74.00
Discount
10%
You Save
$13.05
---
Health Basics
SKU :
142
Quantity :
56 tablets
Availability :
In Stock
Currency :
Prices are in Canadian Dollars (CAD).
Shipping :
Usually ships within 24hrs.
Delivery within 3 to 5 business days.
Helps restore normal levels of Coenzyme Q10
Helps support a normal healthy cardiovascular system
Provides antioxidant support for the maintenance of good health
CoQuinone 100 Difference
A full daily dose of USANA's CoQuinone 100 in one capsule
The energy that every cell needs to function is produced through a complex process in the mitochondria, an organelle within the cell, often called the cellular powerhouse. Cells store energy in a molecule called adenosine-5-triphosphate, or ATP. Thus ATP is synthesized and used by every cell in the body. CoQ10 is an essential part of the electron transport chain used to make ATP. CoQuinone 100 was developed to deliver high-quality, highly bioavailable CoQ10 to the cells to support the production of ATP.
Cells with the highest energy demands, such as in the heart, contain the highest levels of CoQ10, which has been studied for years in the United States, Europe, and Japan for its role in producing cellular energy for the heart and other muscles. Several human clinical trials demonstrate CoQ10's effectiveness in maintenance of good heart function.
Antioxidant Protection
| Medicinal Ingredients | Quantity |
| --- | --- |
| Coenzyme Q-10 | 100 mg |
A byproduct of energy production in the mitochondria is the formation of damaging free radicals. Nature has designed a molecule in CoQ10 that is remarkable because it not only assists in ATP production, it also works in concert with other antioxidants to clean up the free radicals that are produced during that process and protect against their damaging effects. As an antioxidant, it rivals vitamins E and C. In addition, CoQ10 helps to regenerate and recycle vitamin E.
Alpha-Lipoic Acid
Alpha-lipoic acid is another component involved in mitochondrial energy metabolism and recycling oxidized CoQ10. This system also helps to regenerate and recycle other antioxidants, including vitamins E and C and glutathione.
Do You Need CoQ10?
As we age, the ability to absorb and synthesize CoQ10 diminishes and the amount of CoQ10 retained in tissues decreases. In addition, CoQ10 may be depleted by several other factors, including overall nutritional status and inadequate levels of the B vitamins, vitamin C, and selenium. Some drugs, including the cholesterol-lowering statins, and excessive exercise or environmental stresses such as illness and extreme weather may also lower CoQ10 levels in tissue.
Why CoQuinone?
CoQuinone 100 contains a full 100 mg of CoQ10 and 12.5 mg of alpha-lipoic acid per soft gel capsule. USANA's unique formulation provides these important antioxidants in a natural mixture of lecithin and vegetable-derived glycerin monooleate in a base of medium chain triglycerides. Clinical tests performed in USANA's laboratories show that CoQuinone 100 delivers CoQ10 in a more bioavailable formulation than some solid formulations or from competitive liquid formulations.
About USANA Health Sciences
---
Complementary USANA products