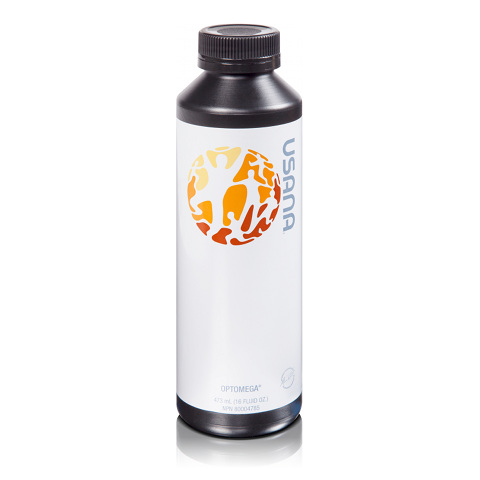 Optomega
USANA Supplements
USANA Optomega® organic blend of essential fatty acids from organic flax seed, sunflower seed, pumpkin seed, and olive oils, it is an all-natural, vegetarian product to help balance your intake of omega fatty acids
Value
$36.25
Discount
10%
You Save
$3.3
SKU :
127
Quantity :
473 ml
Availability :
In Stock
Currency :
Prices are in US Dollars (USD).
Shipping :
Usually ships within 24hrs.
Delivery within 3 to 5 business days.
The benefits of Optomega
Optomega organic blend is an all-natural, vegetarian product that gives your body the essential fatty acids (EFAs) it needs to balance your intake of omega-3 and omega-6 fatty acids without eating fish or taking a fish oil EFA supplement.
It can be difficult for vegetarians and vegans to get the proper amount of omega-3s in their diet since fish oil supplements are most common. Because Optomega is vegetarian, it's an excellent alternative to other EFA supplements, which contain oil found in marine life.
EFAs play an important part in health and wellness. EFAs are called "essential" because the body needs them, yet cannot make them on its own. EFAs must come from your diet—or supplementation. EFAs are incorporated into the membrane of every cell. These flexible membranes incorporate cholesterol to regain structural rigidity, a process that also helps support healthy serum cholesterol levels, provided they are healthy to begin with.
| Medicinal Ingredients | Quantity |
| --- | --- |
| Organic Flax Seed Oil | 7.95 g |
| Organic Sunflower Seed Oil | 1.01 g |
| Organic Pumpkin Seed Oil | 185 mg |
| Organic Extra Virgin Olive Oil | 93 mg |
| Rosemary Leaf | 0.56 mg |
| Turmeric Rhizome | 9.3 µg |
The science of Optomega
An imbalance of omega-3 to omega-6 EFAs could have negative effects on health, but a proper balance can help support health. With an omega-3 to omega-6 ratio of three to one, Optomega organic blend is designed to provide essential fatty acids to maintain good health.
Each 10-mL serving contains :
Omega-3 (a-linolenic acid)-4.3 g
Omega-6 (linoleic acid)-1.4 g
Omega-9 (oleic acid)-2.7 g
The USANA difference
Because the refining process used for commercial oils removes nearly all omega-3 fatty acids, our modern diet may not provide adequate amounts of this EFA or the entire class of compounds made from it. To preserve the omega-3 fatty acids, Optomega organic blend is processed in an inert nitrogen atmosphere that keeps out UV radiation and oxygen. The oils are expeller-pressed and unrefined, and they contain no trans-fatty acids. In addition, the product is blended, mixed, and bottled using nitrogen. All of the oils used in Optomega are Certified Organic by the Washington State Department of Agriculture.
About USANA Health Sciences
---
Complementary USANA products