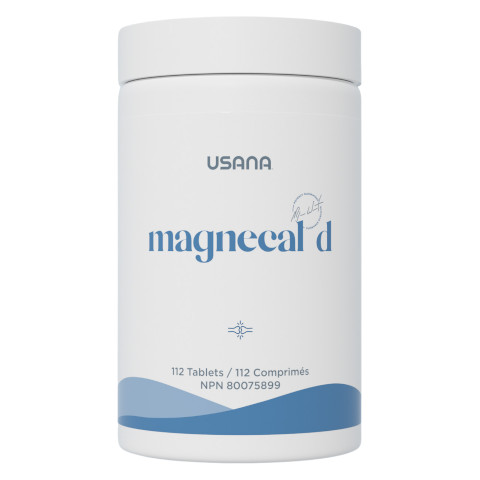 Magnecal D
USANA Supplements
USANA Magnecal D helps in the development and maintenance of bones and teeth and supports healthy bone mineralization and neuromuscular function for a strong, healthy body.
Value
$30.00
Discount
10%
You Save
$4.05
SKU :
120
Quantity :
112 tablets
Availability :
In Stock
Currency :
Prices are in Canadian Dollars (CAD).
Shipping :
Usually ships within 24hrs.
Delivery within 3 to 5 business days.
You have places to go, miles to run, and mountains to climb.
You'll go as far as your bones will take you. So, support the foundation for your active life with USANA® MagneCal D™.
Your bones are the foundation of your healthy lifestyle. Support them with our perfectly balanced USANA® MagneCal D™. The secret is equal amounts of magnesium and calcium plus advanced levels of vitamin D. This supports a more ideal ratio of these nutrients in your body. The benefits of MagneCal D go beyond bone health. It also supports your heart, muscles, healthy energy metabolism, and more.
Much like Active Calcium™, USANA MagneCal D is perfect for supporting your bone health, whether you're 18 or 80. But this powerfully balanced blend has a few improvements. Just take a look inside our newest product:
Medicinal Ingredients
Quantity
Calcium (Citrate and Carbonate)
200 mg
Magnesium (Citrate, HVP Chelate and Oxide)
100 mg
Vitamin3 D3 (Cholecalciferol)
2.5 µg
Vitamin K (Phylloquinone)
15 µg
Silicon (calcium silicate)
2.25 mg
Hydrolyzed Vegetable protein
Magnesium
It's the first part of the product name for a reason. Magnesium helps your body absorb calcium, which is critical in supporting bone health. It's important to maintain an ideal ratio of calcium to magnesium in the body, but most people simply do not consume enough magnesium. That's why we've increased the daily dose to 500 mg—making it equally balanced with the calcium.
Calcium
You know calcium is important for maintaining bone health. And new dietary surveys show most people are consuming more of this important nutrient, which is why we've rebalanced our formula to include 500 mg of calcium. When added to a healthy diet and regular exercise, MagneCal D may help prevent bone loss and osteoporosis.
Vitamin D
We've bumped up the amount of vitamin D to 25 micrograms (1000 IU) because it helps nourish stronger, healthier bones.
These three nutrients work in perfect harmony to support healthy bone mineralization and neuromuscular function for a strong, healthy body. Or in other words, MagneCal D helps support a solid foundation for your healthy, active life. Add it to your daily USANA CellSentials® for maximum support.
About USANA Health Sciences
---
Complementary USANA products