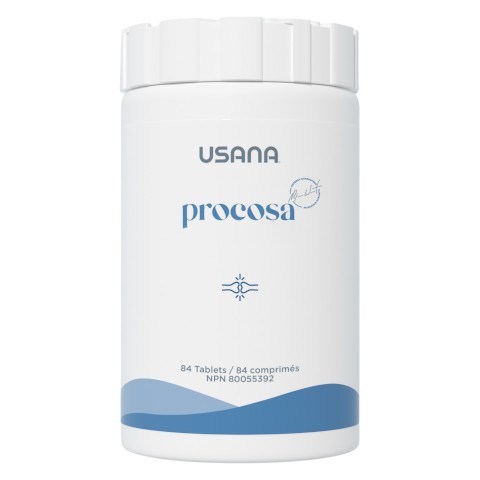 Procosa
USANA Supplements
USANA Procosa® delivers glucosamine sulfate at doses clinically shown to help maintain healthy cartilage and joints and it provides additional nutrition essential for joint health.
Value
$41.50
Discount
10%
You Save
$4.55
---
Health Basics
SKU :
131
Quantity :
84 tablets
Availability :
In Stock
Currency :
Prices are in Canadian Dollars (CAD).
Shipping :
Usually ships within 24hrs.
Delivery within 3 to 5 business days.
Delivers vegetarian glucosamine at doses clinically shown to help maintain healthy cartilage and joints
Vitamin C, manganese, and silicon provide additional nutrition essential for joint health
Meriva bioavailable curcumin complex speeds the action of Procosa to provide more immediate benefits
Procosa Difference
Procosa is formulated with Meriva, an innovative curcumin phytosome that has been clinically shown to deliver noticeable improvements in joint comfort and mobility in as little as 90 days and to help support a healthy inflammatory response.
A study co-authored by USANA scientists and published in the Journal of Natural Products revealed Meriva delivers a significant improvement in bioavailability compared to traditional curcumin (from turmeric) extracts.
Millions of people in Canada suffer from some form of joint problem. The situation is worse for athletes and those who are subject to high amounts of physical stress at work and at home. To help support healthyjoints, USANA created Procosa, a product with a blend of glucosamine, manganese, vitamin C, and silicon building blocks for healthy cartilage.
Cartilage
| Medicinal Ingredients | Quantity |
| --- | --- |
| Glucosamine Hydrochloride (From Fermented Aspergillus Niger Chitin ) | 500 mg |
| Vitamin C (Calcium Ascorbate, Ascorbyl Palmitate) | 75 mg |
| Manganese (Gluconate) | 1.67 mg |
| Potassium (Sulfate) | 31.43 mg |
| Magnesium (Sulfate) | 14.5 mg |
| Meriva Bioavailable Curcumin Complex | 82.5 mg |
| Containing: Curcumin | 14.85 mg |
Cartilage is the protective layer that cushions and lubricates the joints. Over the years, the cartilage in our joints is gradually worn down due to normal physical activity. The body rebuilds the cartilage as it is worn and replaces shock-absorbing synovial fluid, so the joints are always protected. For various reasons, however, the production of new cartilage and synovial fluid can fall behind demand. Because of poor blood supply, lesions to articular cartilage do not heal at the same rate as in other tissue in the body; cartilage is rebuilt slowly. If components of the substances used for cartilage repair are in short supply, the recovery from damage can be slowed even more.
Glucosamine
Glucosamine, an amino sugar, is an important precursor in the biosynthesis of cartilage. Specifically, it is a building block of proteoglycans protein molecules with a high content of bound carbohydrate. Proteoglycans and collagen compose the majority of the cartilage matrix. Proteoglycans are essential for healthy cartilage because they bind the water that lubricates and cushions the joint.
In addition to its role as a biochemical precursor, glucosamine is believed to play a role in regulating cartilage formation and normalizing cartilage metabolism by encouraging higher production of collagen and proteoglycans. Glucosamine also stimulates synovial production of hyaluronic acid, which is responsible for the lubricating and shock-absorbing properties of synovial fluid.
Numerous double-blind clinical studies have shown the efficacy of glucosamine supplements in maintaining healthy cartilage, healthy joints, and full range of motion in the short-term. A three-year study was published showing that joint space increased in the glucosamine-treated group, while it continued to decrease in the placebo group, indicating that the protective cartilage was better maintained in those who used glucosamine. Additional studies have demonstrated that glucosamine, taken orally, is well-absorbed and diffuses into tissues, including the articular cartilage.
A Powerful Blend
The combination of glucosamine with Meriva bioavailable curcumin, manganese, vitamin C, and silicon represents a more comprehensive approach to joint health. Over the long term, these ingredients help retain healthy cartilage. Clinical studies have shown Meriva bioavailable curcumin to provide significant benefits for joint function as well support for a healthy inflammatory response. Manganese is required for enzymes involved in the biosynthesis of proteoglycans. Vitamin C is essential for the reactions necessary to collagen formation. And silicon is required for proper collagen formation and ultimately cartilage composition.
Why Procosa?
Procosa is USANA's formula for joint health. We combine 1500 mg of high-quality, vegetarian glucosamine HCl - a dose shown to be effective - with a blend of important vitamins and minerals, including Meriva bioavailable curcumin. Meriva is an innovative phytosome that delivers water-soluble curcumin wrapped in fat-soluble soy lecithin, which more easily crosses cell membranes for dramatically improved stability and absorption. In addition, vitamin C and curcumin provideantioxidant defence against cell-damaging oxidative stress.
About USANA Health Sciences
---
Complementary USANA products