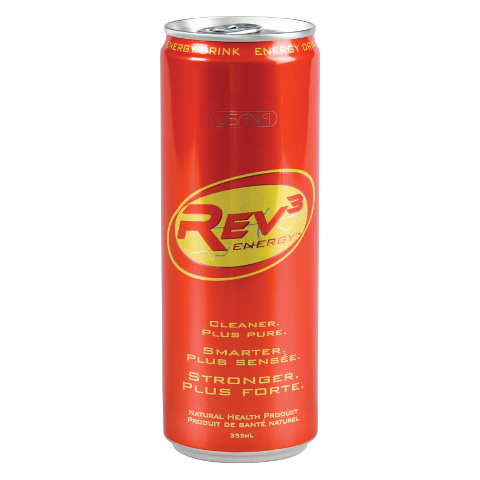 Rev3 Energy
USANA Energy Drink
USANA Rev3 Energy™ is formulated for a sustained energy and uses natural caffeine from blends of teas and supplies vitamins, minerals, and antioxidants to support energy metabolism at the cellular level. Case of 12 cans.
Value
$41.80
Discount
10%
You Save
$1.85
---
Health Basics
SKU :
138
Quantity :
12 cans
Availability :
In Stock
Currency :
Prices are in Canadian Dollars (CAD).
Shipping :
Usually ships within 24hrs.
Delivery within 3 to 5 business days.
No artificial flavours, sweeteners, preservatives, or colours
Contains naturally derived caffeine from a blend of teas to support mental alertness and stamina
Contains Korean ginseng and rhodiola, which help the body deal with everyday stress and fatigue
Rev3 Energy Drink Difference
Naturally derived energy-producing ingredients provide a smart alternative to typical crash-and-burn energy drinks
Cleaner. Smarter. Stronger. Rev3 Energy is all the power of an energy drink—refined. With an advanced formula developed by USANA's nutrition experts, Rev3 is a superior alternative to crashand-burn energy drinks.
What Makes it Work?
| Medicinal Ingredients | Quantity |
| --- | --- |
| Green Leaf Tea Extract (Camellia Sinensis) (Standardized to contain 40% Caffeine) | 300 mg |
| Magnesium (Citrate) | 75 mg |
| Korean Ginseng Root Extract (Panax Ginseng) | 75 mg |
| Ribose | 75 mg |
| Niacin (Niacinamid) | 30 mg |
| Pantothenic Acid (Calcium D-Pantothenate) | 15 mg |
| Choline Chloride | 15 mg |
| Coenzyme Q10 (Ubiquinone) | 15 mg |
| White Tea Leaf Extract (Camellia Sinensis) | 15 mg |
| Rhodiola Root Extract (Rhodiola Rosea) | 15 mg |
| Cocoa Seed Extract (Theobroma Cacao) | 15 mg |
| Aloe Leaft Extract (Aloe Vera) | 15 mg |
| Grape Seed Extract (Vitis Vinifera) | 15 mg |
| Red Vine Leaf Extract (Vitis Vinifera) | 15 mg |
| Olive Fruit Extract (Olea Europaea) | 15 mg |
| Acerola Fruit Extract (Malpighia Punicifolia) | 15 mg |
| Pomegranate Fruit Extract (Punica Granatum) | 15 mg |
| Vitamin B6 (Pyridoxine Hydrochloride) | 7.5 mg |
| Vitamin B2 (Riboflavin) | 2.55 mg |
| Vitamin B1 (Thiamine Hydrochloride ) | 2.25 mg |
| Blackcurrant Fruit Extract (Ribes Nigrum) | 1.5 mg |
| Biotin | 450 µg |
Rev3 has unique components that separate it from other energy drinks: Rev3 contains L-Carnitine, an ingredient that has an important function in energy production. L-Carnitine helps shuttle fatty acids (fats) into the mitochondria where they can be turned into energy. It also helps to transport the toxic byproducts of energy combustion out of the mitochondria to prevent accumulation. Rev3 also contains CoQ10. CoQ10 is involved in the production of 95 percent of the energy required by the body.
A Revolution in Energy Drinks
Rev3 is formulated for a sustained energy. With a high glycemic load, typical energy drinks spike your blood sugar levels, giving you a quick feeling of energy but soon leading to a crash that leaves you feeling drained. Rev3 has a total glycemic load that is three to four times lower than traditional energy drinks. This means that Rev3 does not lead to a debilitating sugar crash but rather leaves you feeling a sustained level of energy throughout the day.
Proprietary Energy Complex
Rev3 was developed with a complete and proprietary energy complex that includes L-Carnitine, malic acid, citric acid, Korean ginseng, and rhodiola. These ingredients are necessary for normal functioning of the Krebs energy cycle (citric acid cycle) and electron transport systems.
Proprietary Phytochemical Blend
The unique phytochemical blend of Rev3 includes 61 milligrams of additional all-natural ingredients. This includes pomegranate, acerola, grape-seed extract, and USANA's patented Olivol olive-fruit extract. Olivol provides highly bioavailable phenolic antioxidants that have been shown to protect low-density lipoproteins (LDL) from oxidation.
Why Rev3 Energy?
Rev3 has a crisp, all-natural taste from natural ingredients. Rev3 is unique among most common energy drinks because it has no artificial flavors, no artificial sweeteners, no artificial preservatives, and no artificial colors. It contains naturally derived caffeine from a blend of teas for improved mental alertness and stamina. Rev3 also includes additional vitamins, minerals, and antioxidants that support energy metabolism at the cellular level.*
About USANA Health Sciences
---
Complementary USANA products