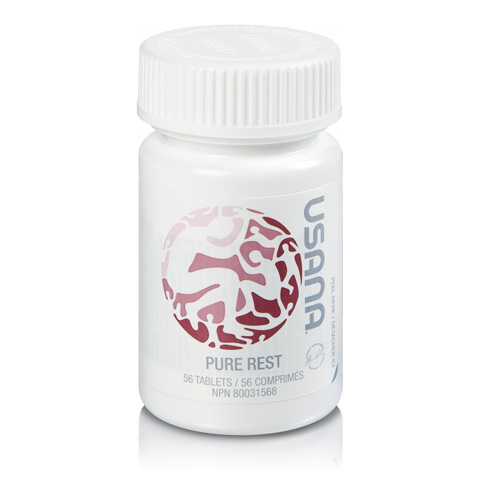 Pure Rest
USANA Supplements
USANA Pure Rest™ supplement supports the natural increase of melatonin production at night and also supports the body's natural circadian rhythms to help promote sleep.
Value
$19.50
Discount
10%
You Save
$-0.45
Health Basics
SKU :
141
Quantity :
56 tablets
Availability :
In Stock
Currency :
Prices are in Canadian Dollars (CAD).
Shipping :
Usually ships within 24hrs.
Delivery within 3 to 5 business days.
Orange-flavoured dissolvable tablet designed to support better sleep
Sleep provides numerous health benefits, including defence against oxidative stress and maintenance of a healthy immune system
Contains no animal ingredients
Pure Rest Difference
USANA's Pure Rest is made from an exceptionally pure source of melatonin
Most researchers agree that getting enough sleep is equally important to long-term health as eating a healthy diet and exercising regularly. Unfortunately, millions of individuals suffer from occasional sleeplessness—the incidence of which increases with age. Other lifestyle factors, such as stress or alcohol consumption, can contribute to poor sleep as well.
Poor sleep results in tiredness, poor concentration, reduced quality of life, compromised immune function, and an increased risk of morbidity and mortality. Sleep deprivation has also been linked with increases in markers of oxidative stress and decreases in levels of antioxidant enzymes (e.g., SOD, glutathione reductase, etc.) in the brain, liver, and heart.
Melatonin is a naturally occurring hormone synthesized in the brain that regulates normal sleep and wake cycles. Melatonin levels naturally start to rise in the evening and remain elevated for most of the night, signaling to our body that it is time to sleep. As melatonin levels rise we become less alert and feel drowsy. USANA's Pure Rest supplement supports the natural increase of melatonin production at night. They are not sleeping pills. When taken at bedtime, oral Pure Rest supplements support the body's natural circadian rhythms and have been clinically proven to help promote sleep, which restores the body after daily exposure to free radicals and general wear and tear.
Sleep is Key to Staying Healthy
| Medicinal Ingredients | Quantity |
| --- | --- |
| Melatonin | 2 mg |
There is abundant evidence showing that getting enough sleep will not only help people feel energized and be more productive, but it will also increase their odds of living healthier lives. While asleep, the body's cells and tissues have the opportunity to recover from the previous day. Many major restorative functions in the body occur almost entirely during sleep, including tissue repair, muscle growth, and protein synthesis. Additionally, sleep is required to maintain normal brain and immune function.
Those who sleep, on average, less than six hours per night have been shown much more likely to be obese and develop abnormal blood glucose levels (a precursor to type 2 diabetes) than those who average seven to eight hours a night. Women who do not get at least six hours of sleep a night are also more likely to have high blood pressure, which could lead to cardiovascular disease over time.
Antioxidant Support
Sleep is restorative with respect to oxidative stress, and melatonin, by promoting sleep and inactivity, allows the body's natural antioxidant defences to overcome the oxidative stress that accumulated during the day's activity.
Melatonin and Immune Function
Adequate amounts of sleep are necessary for healthy immune function. As a compound that promotes sleep, melatonin may help in keeping the immune system functioning normally.
Why Pure Rest?
USANA's fast-acting, ultra-pure Pure Rest supplement is manufactured to the same high standards and carries the same potency guarantee as all tableted products, so you can feel confident that it is safe and effective. Each great-tasting orangeflavoured dissolvable tablet supplies 2 mg of melatonin. Because individual needs vary, USANA scores the tablets so they can easily be broken in half to adjust the dosage as necessary.
About USANA Health Sciences
---
Complementary USANA products